History of Red Hughs GAA Club
1905 – 1906
A Killygordon resident who was 16 years old at the time, remembers the first form of Gaelic football played in Killygordon in 1905-06 in a field owned by the Dennison family. In those two years Killygordon were runners up in the county final to 'Lamh Dearg' Letterkenny and 'Bal Dearg' Donegal Town, and played in a home & away league format against two Strabane sides 'Lamh Dearg' and 'Fag-a-Bealach'.
He remembers vividly how different everything was then, the ball was like a big drum, the full of your arms and very heavy so that you could only kick it about 10 yards. Each team consisted of 17 players and the points posts were much wider than the goal posts which resulted in twenty or thirty points being scored in many games. The shorts that the players wore were made by their mothers from flour bags at a cost of about three pennies a pair.
He said well known family names of Bryson, Kelly, Marley, Sweeney, Harrold, McConnell, McNulty, Doherty, Johnston and Loughrey formed the backbone of the Killygordon team.
1917 – 1919
In the year up to 1917 soccer was the main sport in the Finn Valley area. This was until the establishment of GAA clubs that included Killygordon, Castlefin and Tyrone club Clady followed by Eire Ogs (Ballybofey) and Stranorlar Sarsfields.
One of the co-founders of the Red Hughs Paddy Hannigan from Killygordon had just returned home with several other players from playing soccer with Donneyloop side Drumbane Rovers, when forming a GAA club first came into his mind. With the help of others including Bernard Devine, Willie McGowan, Paddy McNulty, Joseph and Tommy Maxwell, Joseph Cunningham and Charles Doherty it heralded the beginning of the famous Red Hughs, Killygordon and from first registering with the Donegal County Board in 1919 became one of the most famous clubs in Donegal GAA history.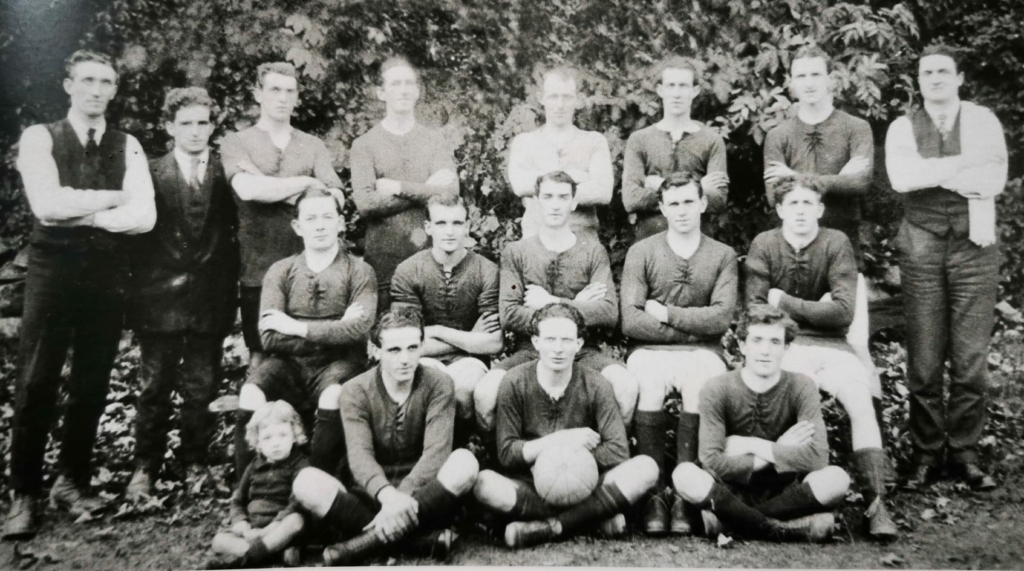 Red Hughs winners of the East Donegal GAA championship 1919
Back row from left: John Davis, James McNulty, James McGowan, Charles Doherty, Bernard Devine, Joe Maxwell, William Hannigan, John Roache. Middle row from left: Willie McGowan, Paddy McAteer, Paddy Hannigan, Henry McGowan, William McNulty. Front row from left: John James McNulty, Jimmy Kerrigan, Tommy Maxwell, Patrick McNulty
1919 – 1946
From 1919-1934 the side were successful in having contested three senior Donegal County Finals and were winners of the Democrat Cup, league, and championship in 1927-28, and again were winners for the third time in 1934. The winning of the Democrat Cup in 1934 against Bundoran by 2-4 to 1-1 gave the side a much sought-after revenge on the seasiders who defeated them in the 1920 Donegal senior championship final which was the first ever to be played outside of the county.
The story of this long drawn out saga which involved three games to decide a winner has been told in the Killygordon area to past and present generations. The first drama unfoldedat the then famous Stranorlar Showgrounds where Killygordon defeated Bundoran by 1-7 to 0-5 in a game which a priest figured in the sides success. Bundoran protested and won their objection on the basis that a player, the priest was not registered with Killygordon. A replay was ordered to take place in Ballyshannon on March 17th 1920 where the game ended level with the score Killygordon 1-6 Bundoran 2-3. The third game to determine the winner of this history making final that took place in the Brandywell, Derry, now the home of Derry City FC, resulted in victory for the seasiders by 2-4 to 1-2.
Killygordon players from 1917-1940 included Bernard Devine, John Davis, Paul McNulty, Jim, Joe and Tommy Maxwell, Frank and Charles Kelly, Alex, John, Robert and EddieBrady, Michael and Andy McNulty, Paddy and Willie Bonner, Henry and Jimmy McGowan, Manus (A) and Manus (B) O'Flaherty, Paddy Murray, John Sweeney, Danny Woods, Willie and Charles Doherty, Paddy Hannigan, Willie Hannigan, John Gordon, Larry Perkins, Frank McAteer, Michael McGinty, Michael McGroarty, Jim McGroarty, Barney Coyle, Joe Bradley, Patrick Gallen, Sean Flanagan, Jimmy Kerrigan, John Roche and Willie McCallion.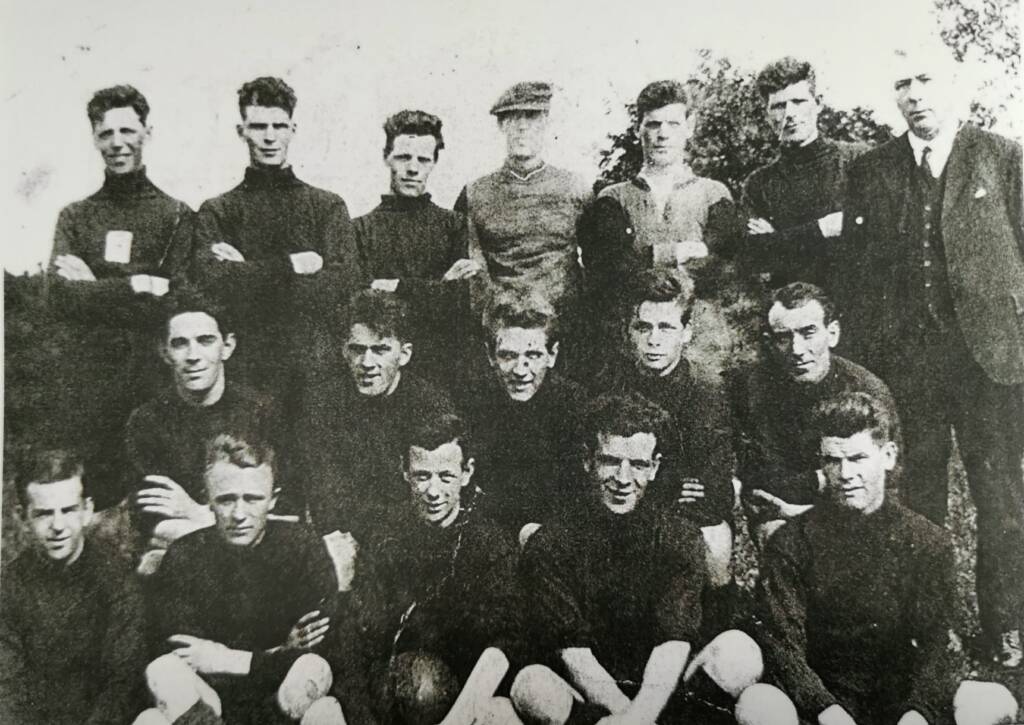 Red Hughs team 1929/30
Back row from left: Barney Coyle, Eddie Brady, Andy McNulty, Joe Maxwell, Mickey McNulty, John Brady, John Carr. Middle row from left: Jim McGroarty, Paddy Murray, Willie J Bonner, Alex Trainor, Charlie Kelly. Front row from left: Harry Reid, Ben Griffin, Harry McNulty, Alex Brady, Joe Brady
The St.Patricks, Killygordon side of the 1940s won the Junior Championship against Corlea in 1946 and were several times winners of the Dr. McGinley and R. Bradley competitions. Players of the time included Liam McNulty, Seamus and Gerald McGranaghan, Michael, Desmond, Kevin and Louis Gallen, Willie Pierce and Gutsy Bonner, Peter McGowan, Seamus Corr, John Gallen, Frankie Murray, Liam and Seamus Doherty, Harry Friel, Collins Lafferty, Jackie Noonan, Paddy Bonner, Alo Bonner, Brian Devine, Leo Maxwell, Jim Maxwell, Jnr, John Joe Casey, Jim Wilson, Willie O'Loughlin, Sarsfield McLaughlin, John Hannigan, Alex, Paul and Tommy McNulty.
Red Hughs team 1946 winners of the Dr. McGinley Cup
Back row from left: William McIntyre, Sarsfield McLaughlin, Desmond Gallen, Liam McNulty, Seamus Granaghan, Tony Noonan, Re. Fr. Carlin (curate Killygordon). Middle row from left: Peter McGowan, Paddy Bonner, Michael Doherty (Liscooley), Pearse Bonner, Liam Doherty. Front row from left: W.J Bonner, Gutsy Bonner, Michael Gallen (captain), Kevin Gallen, Tony Noonan.
Missing from photograph: Seamus Corr.
Other players from this period: Seamus Corr, Collins Lafferty, Joe Bradley, Leo Maxwell, John Gallen, John Joe Casey, Bernard Devine, Shaun Maguire, Dermot Hannigan, Pat Lafferty, Eddie and John Hannigan.
1959
There was little GAA activity during the early 1950s until a Crossroads side came on the scene and had their success by reaching the Donegal Junior Final in 1959 but were defeated by Cloughaneely. Joint managers of the team were Andy Doherty and Paddy Bradley (former postmaster at the Cross PO). The side that included Castlefin players Michael, Pat and Ian Farren, Michael and Patsy McMenamin, Hugh and Paddy Harron, Cecil Nixon and Pat J. Hughs were trained by another Castlefin man Aussie Bryson. Players from the Crossroads and Killygordon area included Henry and Patsy Bradley, Benny and Kevin Browne, Sheanie Doherty, Charles Gallen, Patsy McConnell, Andy McNulty, Frank Kelly, Seamus McKelvey, Josie Sweeney, Roy Payton, Des Cannon, John Alexander, Pat Lafferty, Dermot Hannigan, Sean McGuire, Jim Wilson and Terence Gallen.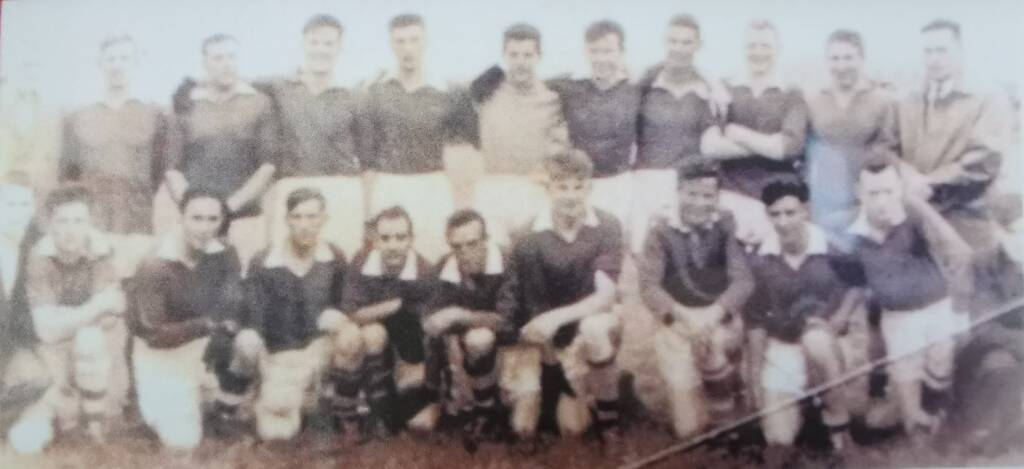 Red Hughs team 1959
Back row from left: J. Brady (mentor), Liam McNulty (sub), D. Hannigan, B. Browne, P. Bradley, C. Nixon, K. Browne, J. Farren, P.J Hughes, F. Gallen (sub), P. Heeney (mentor) Front row from left: P. McGowan (sub), P. McMenamin, F. Kelly, H.Harron, P. Lafferty (capt), C. Gallen, P. Farren, M. Farren, H. Temple, L. McFeeley (sub).
1980 – 1986
The dead ashes of the of the GAA in Killygordon were brought back to life in 1980 with the formation of the present Red Hughs who went on to win the Junior Championship and Division titles in 1981. From this time forward the Red Hughs club as we know it today has been in existence. In 1982 came Red Hughs came second in Division 2 and lost the Intermediate Championship Final. In 1983 the club played in Division 1 of the league. It was in these three years that Red Hughs were established as one of the strongest club sides in Donegal and reached the Senior County Final in 1986 losing to Aodh Rua, Ballyshannon.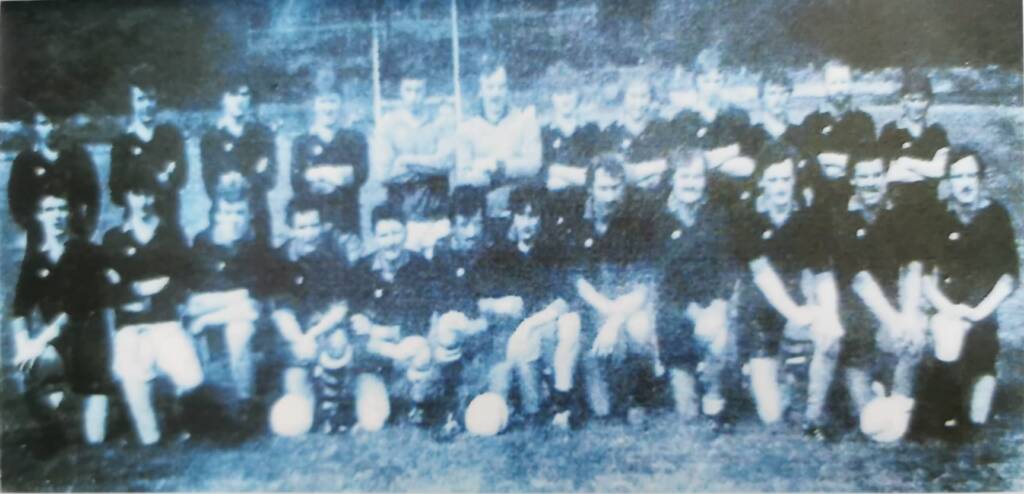 Red Hughs 1981 Junior Champions
Back row from left: L. Doherty, J. Gallen, J. Browne, P. McLaughlin, D. Browne, T. Kelly, S. Noonan, S. Gallen, B. Scanlon, G. McColgan, K. Bradley, C. McGowan,. Front row from left: S. Callaghan, M. Carlin, B. Gallen, B. Reid, D. Sweeney, H. Gillespie, E. Gallen, S. Ewing, B. Devine, G. Gallen, B. Brady.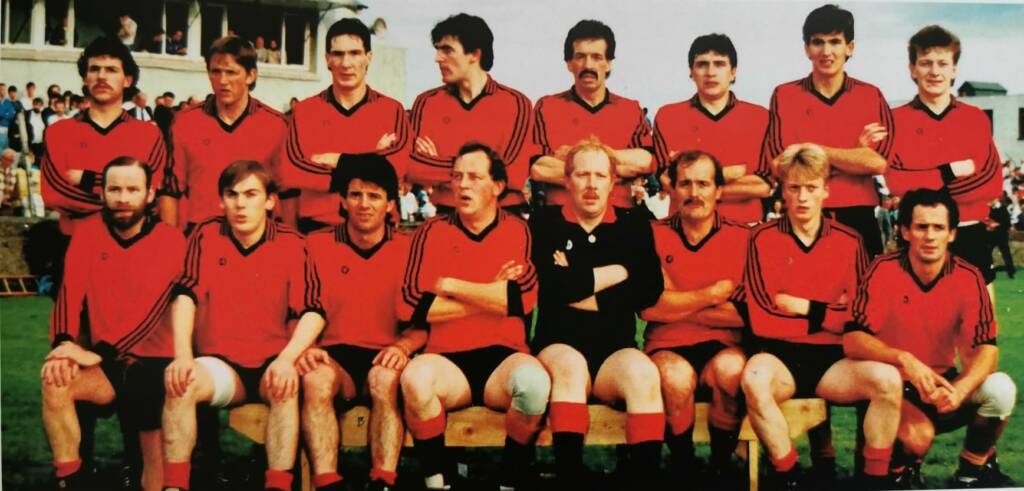 Red Hughs 1986 Senior County Finalists
Back row from left: G. McColgan, M. McEneaney, D. Reid, M. Carlin, H. Gillespie, E. Carlin, J. Carlin, C. Gillespie. Front row from left: K. Bradley, S. Irwin, L. McColgan, B. Brady, S. Patterson, S. Ewing, L. Gillespie, B. Reid.
Missing from photograph: M. Gallagher, P. Gallen, A. McDaid.
1991 – 2019
In 1991 Red Hughs again contested the County Final, losing to Killybegs who were our great rivals in that period. Red Hughs reached the County Final again in 1992 losing to the same opposition but did win Division 2 league title and gained promotion back to Division 1. Our greatest silverware and honours at this time was being crowned Division 1 league champions and Democrat Cup winners in 1994. This was a wonderful achievement for such a small club in the modern era. For the next few years up until 2000 the club played and competed well in the top two divisions in the county and sustained a high level of performance over a long period of time. This was an impressive level of consistency for such a small club.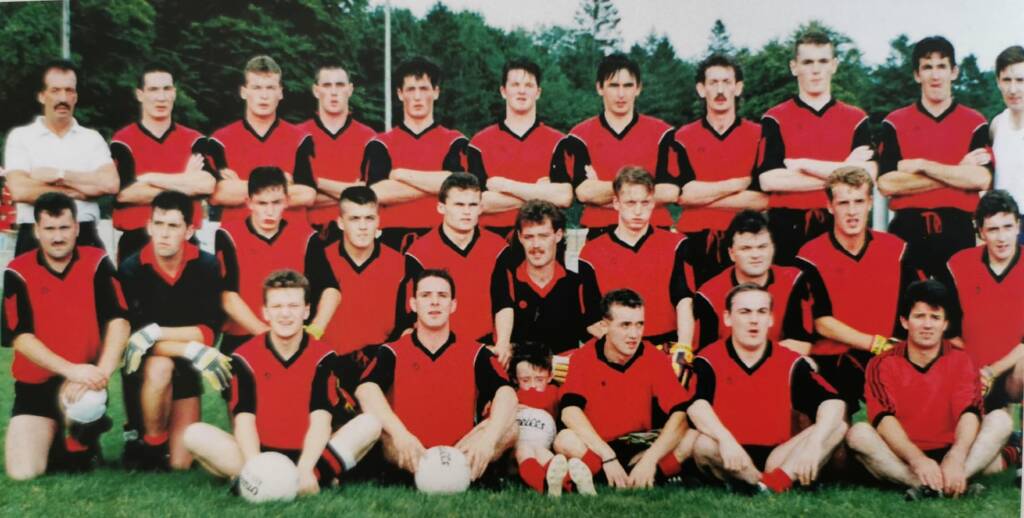 Red Hughs 1991 Senior County Finalists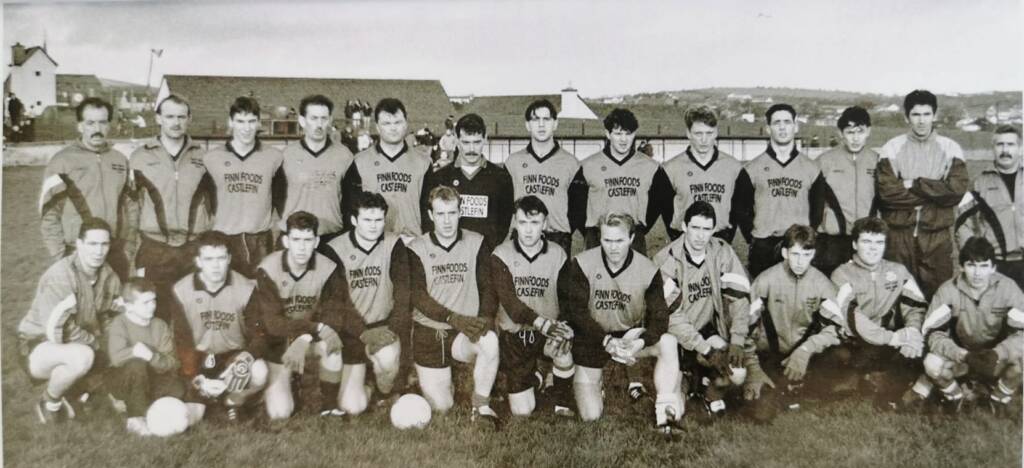 Red Hughs 1994 Division One League Winners
Since the beginning of the 21st century the club has competed mostly in Division 3 and 4 of the league, winning the Division 4 league in 2003 and reaching the Junior Championship Final the same year. Red Hughs competed in the Junior Championship final in 2017 before finally winning the title in 2018. This team went on to win the Ulster Junior Championship against Limavady Wolfhounds in Celtic Park, Derry before bowing out at the All-Ireland semi-final stage against Easkey, Sligo. A great year for the club in their centenary year 1919 – 2019.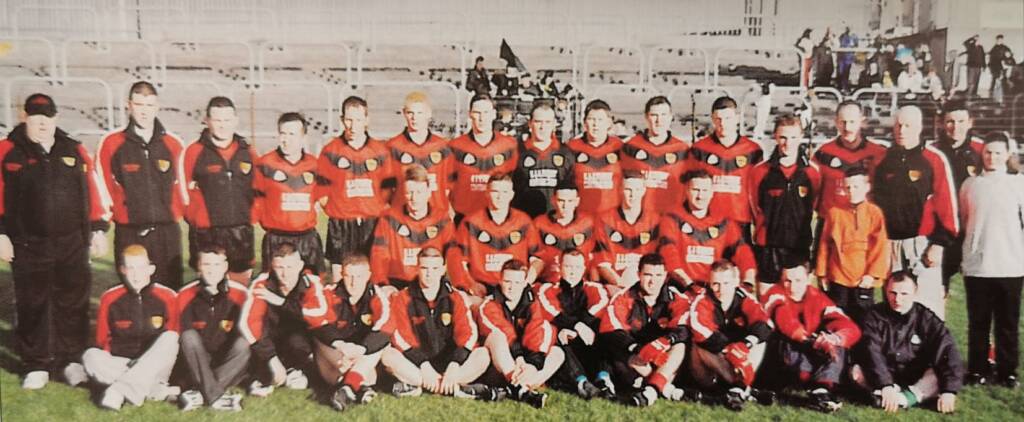 Red Hughs 2003 Junior County Finalists
Some interesting facts about Red Hughs
The St.Patricks, Killygordon side of 1948 registered the highest score ever in gaelic football with a score of 14-44 to 0-2 against their neighbours Castlefin. The wizard of the side Jackie Noonan contributed a total of 7-14 to the score with Kevin Gallen, Peter McGowan and Collins Lafferty having their share of the scoring. The game involved was in the Dr.McGinley Cup competition played in Killygordon.
In the late 1920s Red Hughs, Killygordon engaged and defeated in a challenge game the Donegal county team which contained a number of Kerry players who were members of the Gardai stationed at the time in Donegal. For the honour of the county the score of the game is still a secret. Paddy Hannigan playing for Donegal against his team mates had a smile on his face when he greeted the McNultys, Bradys, Maxwells, McGowans, O'Flahertys and others of his home team.
Red Hughs players of the past who played senior football for Donegal onclude: Alex, Eddie and John Brady, Jimmy and Henry McGowan, Manus O'Flaherty (A), Manus O'Flaherty (B), Paddy Hannigan, Jim and Tommy Maxwell, Gerry Patton, Michael McGroarty, Jim McGroary, Jimmy Kerrigan, Willie Doherty, Willie McCallion, Joseph Bradley, Michael, Kevin, Desmond and Louis Gallen, Liam Doherty, Barney Coyle, Joe Cunningham, John Sweeney, Jackie Noonan and in more recent times Donal Reid, Marty Carlin, Gerard Kelly, Ollie Reid all served the county team with distinction. Current county player Stephen McMenamin can be added to that list.